Dallaglio Hayward



Japanese Name

ダラリオ・ヘイワード

Romanized Name

Darario Heiwādo

Nickname(s)/Alias(es)

Messy Bed Hair (ヘナチョコ寝癖 Henachoko Neguse)

Debut

Voice actor

川田紳司
Shinji Kawada (Japanese dub)
Brian Beacock (English dub)

Status

Deceased
Dallaglio Hayward is a machine craftsman, maker of musical automata, who created Christabel Sistine so she can play his Phantom Scores. He is present in the Phantom Score story.
Background
Edit
Dallaglio's father also produced musical automata. However, musicians laughed at his creations, so he died in failure. When Dallaglio laid his hands on Guglielmo Baldini's surviving compositions, he became motivated to honor his father by developing a machine capable of playing the Phantom Scores. He needed an automaton with human-like appearance and emotions. The project was funded by Kendrick, who also hired assistants for Dallaglio.
The partnership with the manager was supposed to last until the Sistine Hall was finished. Dallaglio taught and adjusted Christabel from a baby-like state. Eventually, he started to believe that she had her own will. From that moment, he ignored his original goal and wished solely for her happiness. Dallaglio also created the pianist automaton, the only capable of accompanying Christabel. Dallaglio heard about the Disward family.[1]
Personality
Edit
As seen in the anime, it hurt him seeing his father having problems as a maker of musical automata.[2] Dallaglio holds him in high esteem, working to honor his memory. Christabel and the pianist doll shows that he's very talented as a craftsman and musician. He's a good man who wishes for Christabel's happiness and doesn't accept Kendrick's plan of using her to control the audience.[1]
Appearance
Edit
Dallaglio looks to be in his late twenties, with a childish face and bed hair. He's a thin man who uses glasses and craftsman clothes, besides carrying a bag, hanging next to his waist, containing the tools required for repairs and adjustments.[1] His anime version has blue eyes, freckles on his nose and messy, short brown hair. In the adaptation, Dallaglio wears a gray three-piece suit, a flat cap and a blue neckerchief.[2]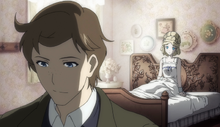 Dallaglio had picked white flowers to Christabel. He plays piano while she's in bed. When she wakes up, he affirms he would take her to the park so he can show her happy and beautiful things. Most important, he wishes for her happiness.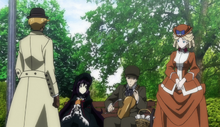 In the park, he makes his way among the bushes to find Christabel, out of breath. She was talking to Hugh, requesting his violin. Dallaglio apologizes for her attitude. He also asks for the instrument and uses his tools to quickly fix it. They watch Christabel playing the violin. The craftsman becomes nervous when a crowd forms to listen to her performance, especially when people recognize the famous musician. After asking to borrow the instrument, Dallaglio drags Christabel away.


Days later, Hugh and
Dalian
find him acting suspicious. They follow him to the basement of the Sistine Hall, where people were gathering to see the inauguration ceremony. The pianist automaton created by Dallaglio was stored in this underground room. Christabel plays for Hugh and Dalian after they are attacked and restrained by one of
Kendrick
's men. Dallaglio appears, attracted by the melody. Before releasing them, he asks them to escape with Christabel. However, they are interrupted by Kendrick and his henchman.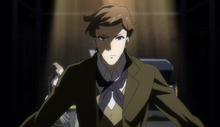 It's revealed that the manager would use Christabel, an automaton developed by Dallaglio, to play the
Utopia
and control the audience. Dallaglio tries to protect her, affirming she has her own will. He threatens to publish her blueprints if Christabel is forced to make people suffer. He's shot in the chest by Kendrick's man. The manager affirms he would use Dallaglio's assistants to tune her from now on. Christabel doesn't understand what's happening, so Dalian explains that Dallaglio is dying.
When Christabel is about to perform in the stage above, Dallaglio drags himself across the floor to release Hugh with a small knife. He shares what motivated him to create Christabel and how he wishes for her happiness. He was always besides her, working on her development in order to honor his father, motivated by the Phantom Scores. Dallaglio dies in Hugh's arms after cutting the ropes. The next week, Dalian suggests that Dallaglio modified Christabel's mechanisms to make her play Twilight and make the Sistine Hall collapse. Alternatively, Christabel may have acted of her own will to express her sadness over Dallaglio's death.[1]
References
Edit
↑ 1.0 1.1 1.2 1.3 The Mystic Archives of Dantalian light novel, Chapter 2, volume 4.
↑ David Bonsey. (2013, March 29). Dall'Aglio and the Mantua School of Fine Violins. In Skinner. Retrieved 20:41, July 28, 2017, from https://www.skinnerinc.com/news/blog/dall-aglio-and-the-mantua-school-of-fine-italian-violins/
↑ List of Nodame Cantabile characters. (2017, May 18). In Wikipedia, The Free Encyclopedia. Retrieved 20:58, July 28, 2017, from https://en.wikipedia.org/w/index.php?title=List_of_Nodame_Cantabile_characters&oldid=781082820
↑ Yoshitsune Hououin. In Sora No Otoshimono Wiki. Retrieved 20:58, July 28, 2017, from http://soranootoshimono.wikia.com/wiki/Yoshitsune_Hououin
↑ Sound post. (2017, May 28). In Wikipedia, The Free Encyclopedia. Retrieved 21:47, July 28, 2017, from https://en.wikipedia.org/w/index.php?title=Sound_post&oldid=782695885
↑ Bibliotheca Mystica de Dantalian Suite, The Mystic Archives of Dantalian original soundtrack.