Welcome to The Mystic Wiki of Dantalian
I ask of thee. Art thou mankind...?
Nay. I am the wiki. The wiki of The Mystic Archives of Dantalian.
Franchise
Characters
Concepts
Helping out
Before editing and helping out the Wiki, it would be wise to check some articles to learn the standards the Wiki has come accustomed to. If there are any questions or suggestions regarding the standards, please visit the Watercooler.
Western naming order convention: since the series has an English setting, Western naming convention must be used (unless there are Eastern characters in the story, in which case Eastern naming convention is preferred).
When possible, try to separate light novel information and events from their manga and anime versions when appropriate. Some info and events can overlap and be used to add canon, but others will conflict, overlook, or present a different variation to the original.
You can add info anonymously, or you can
log in
and gain the ability to upload images, blog and see less ads. If you are new to wikis, check out the
tutorial.
Images can be uploaded on the
Special:Upload
page. Check out the
Forum
to see what the community is working on, to give feedback, or just to say hi.
Recent blog posts
THRebbon
•
GAINAX definitely studied a lot to develop the setting of the anime. The production has many references to novels, people, brands, locations, etc that I manage to identify. While watching the episodes, I suspect that there are many more references h…
THRebbon
•
I've studied Mechanical Engineering for seven years and, after getting my diploma, I started looking for a job. I've worked before, I take my studies seriously. So now that I was spending more time at home, I felt bored and useless. I needed to feel…
Bashiek
•
Hello. Does anyone know the name of the soundtrack played in ep. 10 around 18.00 (time text). If anyone can help, I would appreciate it. Thanks.

I've created an article about the anime OST. Have a look. Sorry, I know that I'm late. THRebbon (talk) 2…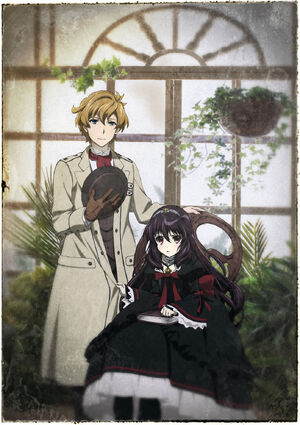 If you see this, your JavaScript might be disabled or DiscordIntegrator plugin isn't working. If the latter, please contact a wiki administrator.
Overview
The Mystic Archives of Dantalian

[

edit

|

edit source

]
Light Novels - 8 volumes.
Manga - 5 volumes.
Anime - 12 episodes + OVA.
Dalian Days - 2 volumes.
Dalian-chan's Bookshelf - 1 volume.
Random Quote
"A long time ago I opened this library and released disasters into the world: epidemics, lust, suffering, delusions, wars, murders, destruction, death… like Pandora, the maiden of myths… That's why I'm here. I guard the sleep of Phantom Books so that they never fall into the hands of unworthy readers again. This is my payback. And the library is my cell."

- The Girl in the Bookshelf
External Link
Community content is available under
CC-BY-SA
unless otherwise noted.